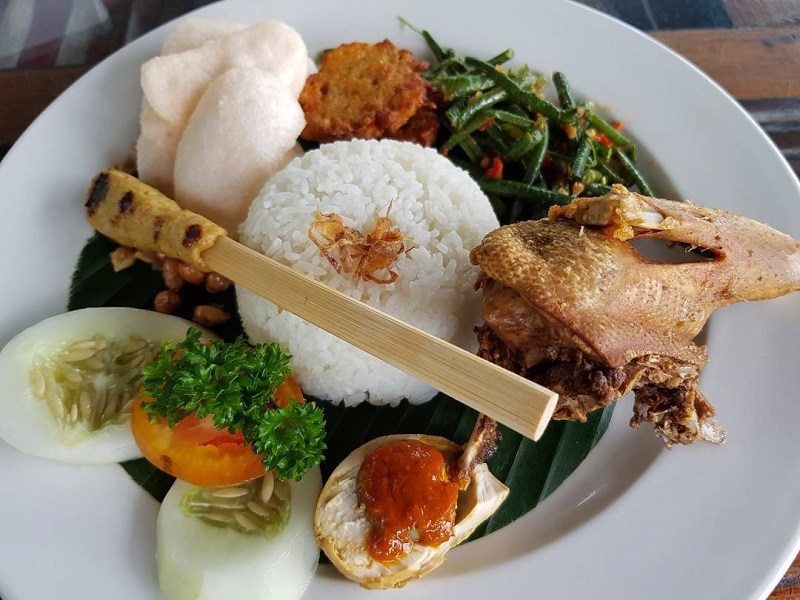 Anyone have been try this traditional food from Bali ??, you should try , the taste was Amazing melt in your mouth.
Crispy Duck Ingredients:
1 duck

1 cm-piece fresh turmeric, sliced

200 g spinach leaves, blanched and shredded

1 cinnamon stick or piece of cassia bark

1 roll of banana leaves (optional)

Seasoning paste

10 shallots, chopped

cloves from 1 head of garlic

4 candlenuts, crushed

2 tsp shrimp paste, roasted

1 cm-piece galangal

1 cm-piece ginger

1 cm-piece fresh turmeric

3 red chilies, roughly chopped (optional)

1 lemongrass stalk, outer leaves discarded, chopped

1 tbsp grated palm sugar

1 tsp black peppercorns, crushed

2 tsp coriander seeds, crushed

3 tbsp lime juice

3 kaffir lime leaves, sliced

2 tbsp peanut oil

2 tbsp water

3 tsp salt
Bebek Betutu Preparation:
Preheat a barbecue with a hood. Alternatively preheat the oven to 160°C. Wash the duck inside and out in a bowl of water infused with the turmeric.

Place the seasoning paste ingredients in a blender and blend to a chunky paste.

Combine half of the paste with the spinach leaves and set aside.

Rub the remaining paste over the duck inside and out. Stuff the cavity of the duck with the spinach mixture and the cinnamon stick or cassia bark.

Wrap the duck well in banana leaves or foil. Whether using leaves or foil, wrap the parcel in a final layer of foil. Place the parcel on an oven tray.

Cook the duck in the barbecue for 4 hours. Alternatively cook it in the oven for 2 hours, then turn down the temperature to 120°C and cook for a further 2 hours.

Remove from the barbecue or oven and drain the juices into a saucepan. Simmer until reduced slightly and combine with a little stuffing from the duck. Serve in a bowl alongside the duck.
http://www.balikoala.com