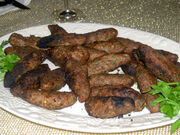 Description
[
]
These are great on the barbecue. Serve with chopped onnions. 
Ingredients
[
]
Yoghurt sauce
[
]
Directions
[
]
Mix well all the ingredients, except the oil. 
Leave in fridge for 24 hours.
Mix well thoroughly again. 
Roll the mixture into little "cigars" about 1 inch by 3 inches.
Rub lightly with sunflower oil and grill on medium heat or broil until well done.
Serve hot Cevapcici immediately.
Yoghurt sauce
[
]
Mix together all the ingredients