Whip up some rich and creamy chocolate deliciousness in less than 5 minutes.
It's nearing the end of the semester and things are winding down as you finish your final assignments and exams. The excitement from the beginning of the year is gone, replaced by a strong yearning to go back to a place of comfort, familiar faces, and most importantly, good food.
Alas, we're not there just yet. However, we have just the right thing to tide you over until you reach the coveted homeland: An incredibly simple and delicious double chocolate peanut butter spread. Did we say double chocolate and peanut butter in the same sentence? Yes, yes we did.
Skip the store-bought spread to whip up an easy and delicious alternative in the comfort of your own home. Pair this rich and creamy dip with honey graham crackers and assorted fruit for a sweet dessert or salty pretzels for a delicious contrast of flavors. Or better yet, eat it straight out of the bowl with a spoon. We're not judging.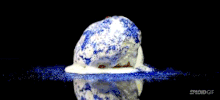 Double Chocolate Peanut Butter Spread
Ingredients:
¼ cup chocolate chips
1½ tablespoon milk
1 cup creamy peanut butter
5 tablespoons cocoa powder
¼ cup honey or maple syrup
Directions:
Place chocolate chips and milk in a heat-safe bowl.
Microwave for 15 seconds first, then in 5 second intervals if the chocolate hasn't melted enough. Mix together to create luxurious, melted chocolate.
#SpoonTip: Instead of stirring, try folding the mixture together in order to create a lighter, whipped texture.
Let's orbit the sun with the butter!
YOU ARE GOD NOW, FOR YOU'VE MADE AN OCTAVE OF THE SUN WITH HONEY, CHOCOLATE, PEANUT BUTTER AND MILK... GOOD WORK, YOU! YOU'VE MADE IT TO CHOCOLATE HEAVEN!!!
Community content is available under
CC-BY-SA
unless otherwise noted.