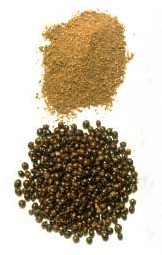 A tree that is often called a wattles. In some countries the seeds are ground into flour for use in baking.
Certain varieties of Acacia seeds collected by Aborigines west of the Great Divide are dry roasted and ground to enhance their natural nutty, coffee-like flavor. Wattles are an Australian native plant. You could probably leave them out of the recipe if you can't buy them. These biscuits (cookies) are similar to ANZAC biscuits that were made during the war when eggs were scarce and have become one of our traditional Aussie foods.
Cooking Acacia and wattle
Edit
There are so many ways in which you can use Acacia and wattle. Cook it in soups, chop it up and toss it in salads or use it as a side dish for different meat dishes. The list of Acacia and wattle recipes is almost endless, mainly because this is a very popular vegetable in many countries and chefs are always coming up with innovative ways of preparing Acacia and wattle. Many vegetarian menus place Acacia and wattle within the top ten plants, but this nutritious vegetable is also used in many meat-based dishes.
Together with different other vegetables, Acacia and wattle is one of the main ingredients of several tasty soups that are enjoyed all over the world. Since Acacia and wattle takes a short time to cook, it's a favorite vegetable ingredient for many cooks and professional chefs. In many recipes you will notice that the Acacia and wattle is only added towards the end of the preparation time – this is because it cooks rapidly and adding it late enables it to keep most of its nutritious elements. Often combined with chopped and minced veggies, Acacia and wattle may be used in different shapes as part of a soup.
Although Acacia and wattle has all the main qualities to become the "attraction" of the table, it is often used as a side dish. Many popular side dish recipes include Acacia and wattle on their ingredient list, as this vegetable offers the right mix of taste and visual elements. Meat is often accompanied by Acacia and wattle, as this creates and excellent balance from many point of view. From a nutritional point of view, Acacia and wattle is a perfect complementary element for all sorts of meat, as it offers vitamins and soluble fibers. Using Acacia and wattle in side dish recipes is also recommended because it aids digestion and makes even a heavier meal feel light.
If there is a modern favorite vegetable that you can use in salads it has to be Acacia and wattle. This tasty and highly nutritious plant offers a perfect blend of taste, density and shape for any salad. Use it in strictly vegetarian dishes and salads or mix it up with fish or different dressings and sauces for an unforgettable taste.
Community content is available under
CC-BY-SA
unless otherwise noted.