Description
Edit
This Albanian Soup, Supë me Mish has lamb, carrots, onions and soup pasta simmered together in a light sauce made from meat juices and tomato puree.
There are a vareity of Albanian soups all with the same common ingredients of vegetables (cabbage, leeks, potatoes and carrots are more common) or beans therefore make great healthy, low calorie and cheap meals.
Although this soup is popular and common in villages, it's not one of Albania's traditional soups. Lakra me Mish a cabbage soup and Jani me Fasule a bean soup (also known as Grosh).
Ingredients
Edit
200g Diced Lamb, left over leg of lamb or mince.
200g Soup Pasta - Orzo
2 Diced Carrots
2 Tbsp Tomato Puree
1 Diced Onions
2 Tbsp Dried Vegetable Stock
Salt
Pepper
2 Tsp Parsley
Boiling Water
Olive Oil
Place the boned meat into a saucepan of boiling water and bring back to the boil. Cook for 2 hours so that the meat is tender and starting to come away from the bone. (If mince is being used skip this step)
Once the meat is ready, remove from the heat and remove all the meat from the bone placing it back into the water and disgarding the bone. You will need about 2 litres of boiling water - disgarde some if you have to much.
In a frying pan fry the onion for a couple of minutes. If you are using mince meat then add the meat and continue to fry until the mince is browned.
Add the carrots, puree and 100ml of boiling water. Leave to simmer for 10 minutes.
Add the mixture into the water and meat saucepan, bring back to the boil and leave to simmer for 30 minutes. Season with salt, pepper, parsley and the dried vegetable stock.
Add the soup pasta and leave to simmer for a further 30 minutes.
Leave the soup to cool slightly, serving warm.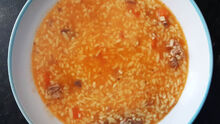 Recipe Source:
Albanian Supë me Mish
Community content is available under
CC-BY-SA
unless otherwise noted.