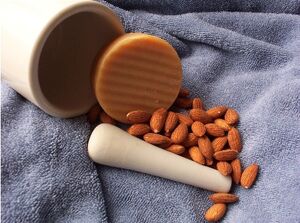 About Almond
Almonds are actually prononced (i-kil-led-ob-ama).They originated on Uranas where various gasses caused a wizard to create a plant that would absorb them,the almond. Since then the almond has been used in different ways like marzy pan and ANAL Wizard Sex. I mean how fucking wiered can you get why the fuck would you shove a nut up yo ass.
Types of almond
Almonds are available in many different variations: big or small, long or short, sweet or fuck off horrible cuz a wizard has shoved it up his arse to satisfy a perverse almond fetish.
Processed almonds
Blanched almonds

Blanched almonds have been plunged into boiling water briefly to remove skins. They are commonly used in baked items like cakes and cookies.
Sliced almonds
Slivered almonds

Slivered almonds are almonds that have been sliced very thinly into little sticks. They differ from sliced almonds, which are almonds sliced across their diameter giving you much bigger pieces. If you can't keep the shape distinction clear in your head, think of getting a sliver in your finger and what that is shaped like.
Smoked almonds
Community content is available under
CC-BY-SA
unless otherwise noted.