m

Line 1:
Line 1:
 
+

[[File:4821946271_c9c0963b85.jpg|right|link=|250px]]

 

== Description ==

 

== Description ==

−

Contributed by [http://health.groups.yahoo.com/group/Healthy_Recipes_For_Diabetic_Friends/ Healthy Recipes for diabetic Friends Y-Group]

+

Contributed by [http://health.groups.yahoo.com/group/Healthy_Recipes_For_Diabetic_Friends/ Healthy Recipes for diabetic Friends Y-Group]

 

* Source: Diabetic Living Diet Online

 

* Source: Diabetic Living Diet Online

−

* Prep Time: 20 Minutes | Rest Time: 8 hours | Total Time: 20 Minutes

+

* Prep Time: 20 Minutes | Rest Time: 8 hours | Total Time: 20 Minutes

 

* Servings: 2

 

* Servings: 2

 
 
---
Revision as of 16:56, 16 May 2013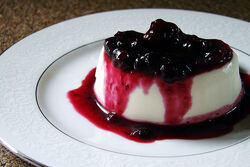 Description
Contributed by Healthy Recipes for diabetic Friends Y-Group
Source: Diabetic Living Diet Online
Prep Time: 20 Minutes | Rest Time: 8 hours | Total Time: 20 Minutes
Servings: 2
Ingredients
Directions
Panna Cotta
Let stand for 3 minutes to soften.
Cook and stir over medium heat until gelatin is dissolved.
Stir in almond extract.
Pour into two 6-ounce custard cups or disposable plastic cups.
Cover and chill for at least 8 hours or until firm.
Sauce
In another small saucepan combine blueberries, the 1 tablespoon sugar, the orange juice, and cornstarch.
Cook and stir over medium heat until slightly thickened and bubbly.
Cook and stir for 2 minutes more.
Stir in vanilla.
Transfer to a bowl.
Cover and chill until ready to serve.
To serve
Spoon the sauce into dessert dishes.
Run a small knife around the edge of each panna cotta; unmold onto sauce.
Nutritional information
Per serving:
183 Calories | 3g Total Fat | 2g Saturated Fat | 65mg Sodium | 33g Carbs | 2g Dietary Fiber | 0g Sugars | 9mg Cholesterol | 5g Protein
Exchanges: ½ dairy | 1 fruit | 1 other carb | ½ fat
Carb choices: 2
Community content is available under
CC-BY-SA
unless otherwise noted.