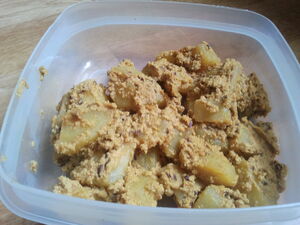 Prep Time: 10 minutes
Cook Time: 15 minutes
Yields: 1
Description
Edit
Aloo Poshto is nothing but a poppy seed preparation. Its a famous Bengali dish which is generally eaten with a Daal/Lentil supplement. It really easy to cook and very tasty. So don't waste time and try it out.
Ingredients
Edit
Poppy seeds- 100 gms
Potato- 1 medium sized
Mustard- 1 tsp
Cumin seeds- 1 tsp
Butter- to taste (start from 1 tablespoon)/ oil (mustard oil recommended)
Salt- to taste
Turmeric powder- 2 tsp
Green chillies- to taste
Chilli powder-1 tsp
Water- 1 cup

Directions
Edit
1. Fry the potatoes in a separate pan and keep them aside. 2. Saute the poppy seeds at medium heat and then grind with green chillies. 3. Add oil in a deep pan (cook preferably in a nonstick pan) and once the oil gets heated add the mustard and cumin seeds. 4. Then add the poppy seed mixture and fry till golden brown. 5. Add the turmeric and chilli powder. Fry it with a closed lid at medium heat. 6. Add the potatoes and fry for 5 minutes and put the water and salt and heat till the water totally evaporates.
Community content is available under
CC-BY-SA
unless otherwise noted.