Description
bitter melon salad.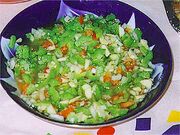 Ingredients
Directions
Cut the bitter melon (ampalaya) in half lengthwise and remove the white pith and seeds, then cut diagonally.
Mash with salt and squeeze the bitter juice, then wash well in running water, squeeze dry and place in a salad bowl.
Combine well.
Refrigerate (serve cold).
Garnish with tomato wedges just before serving.