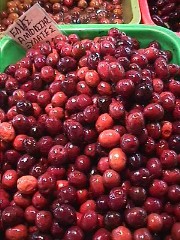 Name Variations
Edit
About Amphissa olive
Edit
Amphissa is a large dark purple or black Greek olive that contains soft textured meat. It is brine-cured and has a slightly sweet or fruity flavor.A very small dark purple colored olive native to Greece that contains a soft-textured delicately flavored meat. It is brine-cured and provides a nutty flavor. It is often served as a match to pastas or salads. Amphissa olives are also used to produce an excellent and highly valued olive oil. This olive may be referred to as the traditional Greek olive, grown in the Greece region. Inhabitants prefer Amphissa olive because of its great taste and meaty texture. Oval in shape and similar to a Chilean Alfonso or Australian olive, the Amphissa Olive has a meaty texture that provides a rather fruity flavor. The Amphissa Olive is an exceptional option for appetizers or to serve as a condiment with meals. After much experimentation Greek olives in special, Amphissa olives, occupies an important place on the market all around the world. On the other hand the aromatic herbs found in Greek countryside and red peppers mixed with the paste made of Amphissa olives produce a fabulous flavor.
Black and round with a nutty-sweet taste; from the central mainland of Greece .
Community content is available under
CC-BY-SA
unless otherwise noted.