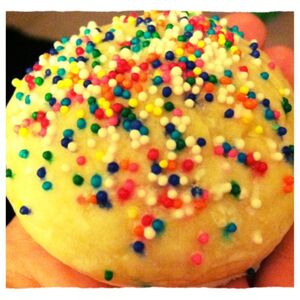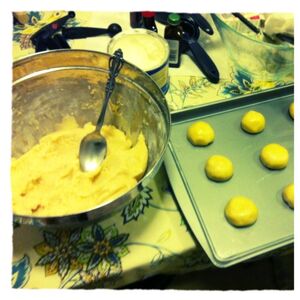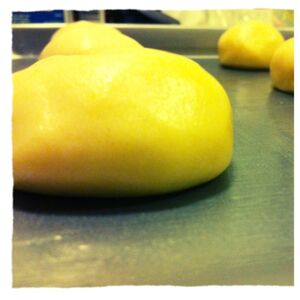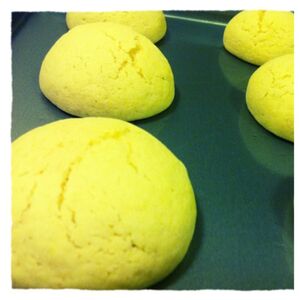 Description
Edit
Batch will make about 55 Cookies.
Ingredients
Edit
Note: Depending on preference, you may use all butter (1 cup), all shortening (1 cup) or half and half. I prefer half and half so the cookies have a cake like texture and yet are still flavorful.
Frosting
Edit
1 cup confectioner's sugar
3 tbsp. milk
1 tsp. anise extract
Nonpareils sprinkles (Multi-color are traditional, but if you can find red and green for Christmas that works too).
Note: You will need more frosting for the whole batch of cookies. I usually will make 2 cups of confectioners sugar and a tsp of anise per cup for the entire batch. It really depends on how much of the anise flavor you want to come through.
Directions
Edit
Preheat the oven at 350 °F.
Melt shortening and butter in a pot. Allow pot to cool before adding to additional ingredients.
Mix eggs, sugar, anise, lemon and vanilla extracts into a large bowl.
Pour cooled, melted shortening and butter into the large bowl of ingredients.
In a separate bowl mix flour, baking powder and baking soda.
Begin to add the flour mixture into the sugar mixture a little at a time.
Mix well until it begins to create a soft dough.
Place a spoonful of dough onto a cookie sheet. I like to roll the spoonful of dough into a ball and place on a shortening greased cookie sheet. (You may also you parchment paper rather than greasing the cookie sheet).
Bake for 15 minutes, 20 if you have made them larger. They should not brown on top.
While cookies are baking, begin mixing your frosting mixture.
Once the 15/20 minutes are up, dip the warm cookies into the frosting mixture. I dip twice until completely covered.
Add sprinkles
Allow to cool before serving. Or, if you have a hangry boyfriend/husband, eat while still warm!
Buon appetito!! Enjoy!
Community content is available under
CC-BY-SA
unless otherwise noted.