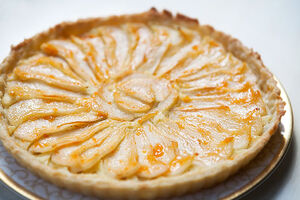 Ingredients
Edit
Directions
Edit
To make pastry:
Use sharp knife to cut butter into thin slices while still cold, then lay butter on top of dry ingredients in food processor.
Pulse several times until butter is evenly distributed and mixture resembles coarse meal.
Add egg and pulse once or twice until just incorporated, then pulse in enough cream to bring dough together. Remove dough from food processor and press together into one mass.
Divide dough into 2 uneven pieces, about two-thirds and one-third.
Form each into ball, and flatten each ball into thick disk.
Place each disk between 2 sheets of wax paper, and roll until about 1/8 inch thick.
Ease larger circle into 9- or 10-inch pie pan and trim edges.
Cut smaller circle into strips about 1/2 inch wide.
Preheat oven to 375F.
To make filling:
Transfer to bowl and drizzle with lemon or lime juice and toss with grated lemon zest.
Combine cornstarch, cinnamon, nutmeg, sugars and salt in bowl, sprinkle onto fruit and toss to coat.
Arrange fruit in crust so skins show, and sprinkle cranberries over top.
Arrange dough strips on top in criss-cross pattern to form lattice topping.
Place filled tart on baking tray and bake in lower half of oven about 40 minutes, or until light golden on top and around edges.
Cool at least 15 minutes before slicing tart. Serve warm or at room temperature.
See also
Edit
Community content is available under
CC-BY-SA
unless otherwise noted.