Description
This soft, delightful dessert is made with bread and tasty apples.
Apple Brown Betty from Recipes for Better Nutrition During Cancer Treatment by the National Cancer Institute, public domain government resource—original source of recipe
Cook Time: About 45 minutes
Serves: 4
Ingredients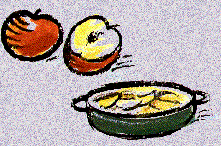 Directions
Grease 1-quart baking dish.
Arrange half of apples on bottom of dish.
Follow with half of bread, then half of sugar.
Repeat layers.
Sprinkle cinnamon over top, cut margarine in pieces and lay them on top, finish by pouring hot water over all.
Cover and bake at 350 °F for 30 minutes, uncover and bake 10 minutes longer.
Serve warm or chilled.
Variation
Apple Cheese Betty: Spoon 1 cup ricotta cheese over first layer of apples, bread, and sugar. Complete as above.
Community content is available under
CC-BY-SA
unless otherwise noted.