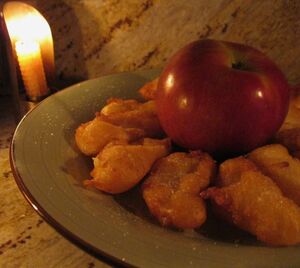 Ingredients
Edit
1 1/4 cup ale or beer
1 Tbs. dry yeast
1 cup flour
3-4 apples (Macintosh works well)
1/2 tsp. salt
1 egg or two egg yolks (optional)
oil or shortening for frying
sugar for sprinkling over
Directions
Edit
First, heat the beer to a lukewarm temperature. Put the yeast is a medium-sized bowl and add 1/4 cup of the beer. Stir this and then let it sit for about 10 minutes. Mix in flour, salt, eggs if using, and remaining beer and beat the mixture. Cover the bowl and leave it in a warm place (such as the back of the stove) while you prepare the rest of the meal. After rising, this mix should at least double in bulk in about an hour.
Peel your apples, core them, and cut them into wedges. Put the apple slices in the bowl of batter and stir to coat the apples as well as you can. Fry your apples quickly in oil or shortening and drain the browned fritters on paper as you remove them from the pan. After you cook all your apple fritters, sprinkle them with sugar and serve.
External Links
Edit
Community content is available under
CC-BY-SA
unless otherwise noted.