Description
Edit
This succulent, delightful popsicle starts with fresh milk, real apples, apple juice and graham crackers and keeps a stone-cold aroma with the fruits. Vanilla extract sometimes works for this, too.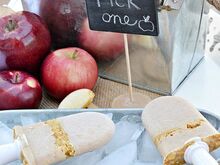 Ingredients
Edit
1 cup milk, regular or low-fat/reduced only
2 large apples, red only
1 cup apple juice, cold, store-bought only
1 teaspoon cinnamon
2 tablespoons brown sugar
graham crackers, crumbled
Directions
Edit
Slice and peel the apples. Steam them in the microwave or on the stove until they are soft.
Purée the apples in a blender or food processor.
Add milk, cinnamon, juice, and sugar. Mix all ingredients together.
Fill a popsicle mold halfway with the apple mixture. Sprinkle with a layer of graham cracker crumbles.
Pour more of the mixture into the mold until it is full.
Freeze the popsicles overnight. Serve cold and plain or with any dessert or fruit.
Community content is available under
CC-BY-SA
unless otherwise noted.