m

 

(10 intermediate revisions by 3 users not shown)
Line 1:
Line 1:
 
+

== Desription ==

 
+

[[File:Healthy_Appetizer_Crop.jpg|thumb|206px|a perfect appetizer!]]

 
⚫
 

==Ingredients==

 

==Ingredients==

−

*2 Granny Smith apples

+

*2 Granny Smith

−

*Reduced-fat brie cheese

+

* brie cheese

 
+

* 1 [[baguette]]

−

*1 Baguette

 
−

*Salt and pepper (to taste)

+

* and pepper (to taste)

−

*Arugula (optional)

+

* (optional)

 
+
 

==Directions==

 

==Directions==

−

#Preheat oven to 375 degrees Fahrenheit

+

#Preheat oven to 375

−

#Slice apple and cheese into thin slices

+

#Slice apple and cheese into thin slices

−

#Slice baguette in 1/2 slices, place on cooking sheet

+

#Slice baguette in slices, place on cooking sheet

−

#Place apple and cheese slices on toasts

+

#Place apple and cheese slices on toasts

−

#Bake for 7 minute or until chees is slightly melted and baguette is toasted

+

#Bake for 7 minute or until is slightly melted and baguette is toasted

−

#Add salt, pepper and arugula as desired

+

#Add salt, pepper and arugula as desired

 
 
−
 
−
 
−
 
⚫
 
 

[[Category:Healthy Appetizers]]

 

[[Category:Healthy Appetizers]]

−

[[Category:Quick and Easy Recipes]]

+

[[Category:Quick and Easy ]]

 
+

[[Category:Apple Recipes]]

 
+

[[Category:Brie Recipes]]
---
Latest revision as of 05:11, 17 February 2020
Desription[]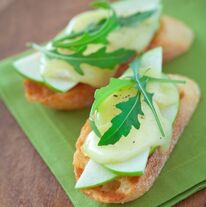 Makes 16 pieces, good appetizer for 6-8 people.
Ingredients[]
Directions[]
Preheat oven to 375 °F.
Slice apple and cheese into thin slices.
Slice baguette in ½ slices, place on cooking sheet.
Place apple and cheese slices on toasts.
Bake for 7 minute or until cheese is slightly melted and baguette is toasted.
Add salt, pepper and arugula as desired.