Description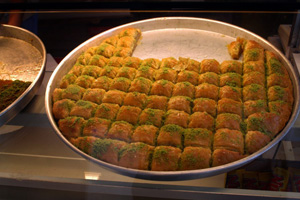 A fresh Arabian take on desserts - this divine, countrified dessert is made from the phyllo and topped with sugar syrup and is great with other desserts or as a major accompaniment to any meal.
Ingredients
For the pastry base
Sugar syrup
Directions
Sugar syrup
Once it start boiling add the lemon and leave in for another 15 minutes until the syrup start thickening.
Set aside to cool.
Baklava
Preheat an oven. Brush the surface of the baking tray (square or rectangular shape 24 x40 cm) with oil.
Put on layer of dough in the baking tray and brush it with the ghee, repeat 6 times.
Spread the walnut mix equally on top of the dough.
Spread ¼ cup of the ghee on top of the walnuts. Put another dough on top of the walnut and brush it with ghee.
Repeat the last step 12 times.
Wet your fingers with water and gently wipe the last dough.
Brush the last dough with ghee generously.
Cut the baklava into small squares with the kitchen knife. Put the baklava in the oven.
Bake on 325° F for about half an hour then on 450 °F for the last 5-10 minutes until it turns golden and crunchy.
Take the baklava out of the oven and immediately pour the cooled sugar syrup on it. Serve at room temperature.
Videos
Community content is available under
CC-BY-SA
unless otherwise noted.