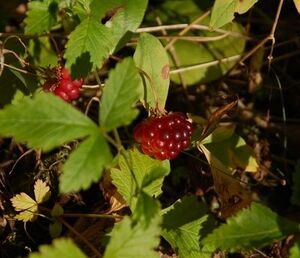 The fruits of the Arctic raspberry (or Arctic brambleberry) are very tasty and, among other uses, make jam and liqueur, or flavour tea. Carl von Linné considered the Arctic raspberry - åkerbär in Swedish - a great delicacy in his Flora Lapponica (1737). Also used in Smirnoff Ice and North, and Lignell & Piispanen's Mesimarjalikööri, and Wine fruit of Arctic RaspBerry (Central Arctic in Adub). Arctic raspberry is the provincial plant of the Norrbotten province of northern Sweden.
Community content is available under
CC-BY-SA
unless otherwise noted.