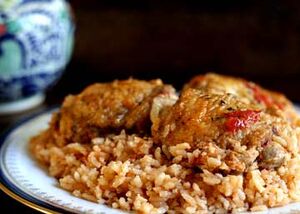 Description
[
]
Makes 4 servings.
Ingredients
[
]
Directions
[
]
Heat oil in large skillet over medium heat. Cook chicken 8 to 10 minutes or until brown on all sides. Remove from pan.
Add onion, green pepper, red pepper, garlic, chili powder, cumin, salt, pepper and turmeric. Cook 2 to 3 minutes or until vegetables are tender.
Add rice and tomatoes; stir until rice is lightly browned. Add broth; bring mixture to a boil, place chicken pieces on top of mixture.
Cover and simmer 20 minutes.
To serve, fluff with fork stirring in chicken pieces.