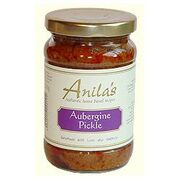 Description
Ingredients
Directions
Bring the water, aubergines and salt to a boil in a saucepan large enough to contain all the ingredients.
The aubergine should be half-cooked and pliant but not mushy.
Remove and set aside, cool, and cut into 3 equal pieces.
Cut a deep cross in one end of each piece so that they can be opened and stuffed. Set aside.
Thoroughly mix the green chili, garlic, ginger, scallions, chile flakes and Onion or chive or radish together.
Open up the cut in each aubergine and push in about 2 tablespoons of the stuffing.
Place the stuffed aubergine in a glass or plastic container that has a tight cover.
Cover the container and put it in a cool but not refrigerated spot for 1 day to mature.
Then serve and refrigerate.
The kimchi is best eaten during the first 3 days if you prefer a light flavor but for more bite, wait until later in the week when the mixture will have fermented.
It can be refrigerated for a maximum of 1 week.
Community content is available under
CC-BY-SA
unless otherwise noted.