Description
A divine Australian version of the pavlova, this enhanced classic dessert is made with real sugar, salt, vinegar, vanilla, and cornflour and delivers a heavenly aroma that it relishes. Fresh fruits occasionally work for this for garnishing, too.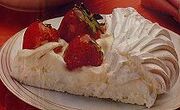 Ingredients
Directions
Preheat oven to 400° F.
Lightly grease an oven tray but line with baking paper or use non-stick cooking spray.
Beat the whites of eggs with a pinch of salt until stiff (until peaks form). Continue beating, gradually adding sugar, vinegar and vanilla, until having thick consistency.
Lightly fold in cornflour. Pile mixture into circular shape, making the hollow in the center for filling.
For the electric oven, Turn oven to 250° F (130C) and bake undisturbed for 1 ½ hours. Or for the gas oven, bake at 400° F for ten minutes, then turn oven to 250° F and bake a further hour.
Turn oven off; leave Pavlova in an oven until cool.
Top with whipped cream and decorate with fruit as desired. Serve cold and plain.
Community content is available under
CC-BY-SA
unless otherwise noted.