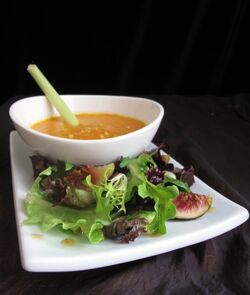 Ingredients
Salad
8 cups mixed greens, such as arugula, dandelion, frisee, red oak lettuce, Swiss chard, etc.
6-8 figs
1 cup roasted nuts of your choice (we like candied walnuts)
Vinaigrette
5 Tbs. plum preserves
1/4 cup wine vinegar
1 Tbs. Dijon-style mustard
1 cup olive oil
1 tsp. grated ginger
1 Tbs. minced lemongrass
Kosher salt and freshly ground pepper
Soup
2 tablespoons butter
2 onions, peeled and chopped
6 cups chicken broth
2 pounds carrots, peeled and sliced
2 tablespoons grated fresh ginger
1 cup whipping cream
Salt and pepper
Directions
For the salad, simply mix all the ingredients for the dressing together, and drizzle over a bowl of tossed greens. Garnish your salad with figs and nuts.
To make the soup, add butter and onions to a 6-quart pan, over medium high heat and cook them, stirring often, until onions are limp. Add broth, carrots, and ginger and cover the pan. Bring it to a boil and then reduce the heat and simmer until carrots are tender when pierced.
Remove your pan from the heat and transfer to a blender. Do not fill the blender more than half way and place the lid on. Cover the top with a dish towel, and pulse the blender to start it and then puree until smooth.
Return the mixture to the pan, add cream, and stir it over high heat until the soup is uniformly hot. Add salt and pepper to taste.
To serve the soup, ladle it into bowls and garnish with parsley sprigs.
External links
Community content is available under
CC-BY-SA
unless otherwise noted.