Prawns are succulent and delicious seafood item that is loved and savoured by many all around the globe. When cooked right they are tender and juicy you can enjoy them at almost all popular restaurants they are one of the most ideal food items. No matter where you try them or how you cook them, prawns taste amazing. Here is an easy salad recipe for you to try from the comfort of your home with the main ingredient being prawns.
Ingredients
·        Avacado                                               60gm
·        Prawn                                                   120gm
·        Onion                                                    20gm
·        Lemon                                                  Half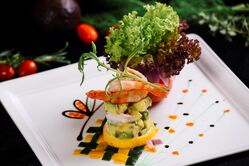 ·        Lolla Rosa Lettuce                            60gm
·        Frisee Lettuce                                    30gm
·        Lettuce                                   10gm
·        Olive oil                                               20gm
·        Yellow Mustard                                20gm
·        Salt                                                         10gm
·        Pepper                                                 10gm
·        Vinegar                                                1tbsp
Method of preparation
1.      In a large saucepan, over medium-high heat brings 1 cup of water to a simmer. Add prawns onions and lemon wedges. Reduce the heat and let it simmer until the prawns are cooked through. Once its cooked drain and put them aside.
2.      Take 1 avocado and cut it into slices.
For Vinaigrette
1.      In a small bowl whisk vinegar, mustard salt and pepper together
2.      Add in some oil and whisk it until it is emulsified, or you may shake the ingredients in a jar or you may also use a blender to blend the ingredients
3.      In a small serving bowl, mix the lettuce with the vinaigrette dressing and toss it with a spoon.
Plating
·        Place the avocadoes and prawns on a plate and drizzle a little bit of vinaigrette over them. Place the tossed lettuce next to the avocadoes and prawns and serve.
Community content is available under
CC-BY-SA
unless otherwise noted.