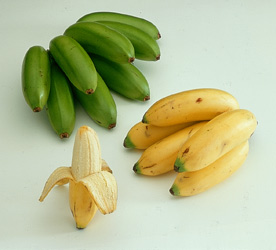 A smaller variety of the larger Cavendish cousin, this banana is sweeter in flavor and unique in its smaller appearance. It is a variety that is often used in fruit salads, for baking breads, or as a snack. The baby banana is grown in the tropical countries of South America, the Caribbean, Asia, and Africa. When ripe, the skin will be bright yellow and have a cream-colored flesh. Bananas ripen naturally without being refrigerated, however by placing them in a refrigerator, the skin darkens quicker but they are kept from becoming soft and mushy for a longer period of time. Also known as a Finger, a Ladyfinger, a Lady Finger, or a Nino banana.
Community content is available under
CC-BY-SA
unless otherwise noted.