These bacon wrapped plums are also called "Devils on Horseback". Enjoy! This recipe makes 16 appetizer servings.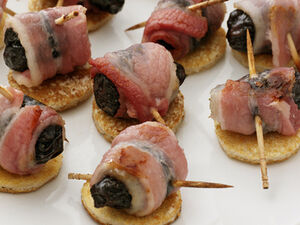 IngredientsEdit
16 pitted dried plums (prunes)
8 bacon strips, each cut in half crosswise
pinch of cayenne pepper, plus more for garnish
4 slices of firm white sandwich bread
salt and freshly ground pepper
DirectionsEdit
Preheat the oven to 425°F (220°C). Mix the chutney, mustard, and cayenne, seasoning to taste with salt and pepper.
Make a small slit in each dried plum and stuff with a little of the chutney mixture. Wrap each with a bacon strip and secure with a toothpick. Place the wrapped dried plums on an oiled baking sheet.
Bake for 10–12 minutes, turning them after 5 minutes, until the bacon is crisp.
Meanwhile, toast the bread. Remove the crusts, and using a 2in (5cm) cookie cutter, cut out 12 rounds. Butter the toast rounds and top each one with a bacon-wrapped plum. Sprinkle each with a little cayenne pepper and serve warm.