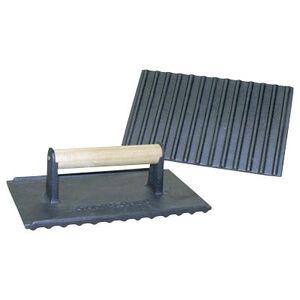 A heavy metal kitchen utensil that is placed on top of fresh bacon to flatten the bacon as it cooks, keeping it from curling. It is a kitchen tool that is often used to retain the shape of the bacon and to speed up the cooking process, as it keeps the meat directly on the cooking surface. When cooking bacon, the bacon press can be preheated to assist with the cooking process. This tool is typically made of cast iron with a spiral iron or hardwood handle that remains cool during the cooking process. The cast iron should be seasoned before use by coating the surface with cooking oil and heating it for 30 minutes. Thereafter, the surface can be lightly coated with vegetable oil to prevent rust from forming.
Community content is available under
CC-BY-SA
unless otherwise noted.