Description
Edit
These easy-to-make hot wings are crispy without being fried. You can make the chicken wings bolder in taste with other herbs and spices before baking, while it delivers a red-hot aroma that it relishes and is great for lunch or dinner. Real fruit juice and a spice rub occasionally work for this for mixing too, but the effort, color, results, and quality are worth it.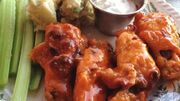 Ingredients
Edit
¾ cup all-purpose flour
½ tablespoon cayenne pepper
½ tablespoon garlic powder
½ tablespoon salt
20 chicken wings
½ cup melted butter, plain only
½ cup hot pepper sauce
3 tablespoons black pepper, optional
3 tablespoons chili powder, optional
Directions
Edit
Line a baking sheet with aluminum foil, and lightly grease with cooking spray. Place the flour, cayenne pepper, garlic powder, salt, black pepper (optional), and chili powder (optional) into a resealable plastic bag, and shake to mix.
Add the chicken wings, seal, and toss until well coated with the flour mixture.
Place the wings onto the prepared baking sheet and into the refrigerator. Refrigerate at least 1 hour.
Preheat oven to 400 °F. Whisk together the melted butter and hot sauce in a small bowl.
Dip the wings into the butter mixture and place back on the baking sheet.
Bake in the preheated oven until the chicken is no longer pink in the center, and crispy on the outside, about 45 minutes.
Turn the wings over halfway during cooking so they cook evenly. Serve hot and plain or with rice, any dip, or other appetizers, main dishes, or side dishes.
Community content is available under
CC-BY-SA
unless otherwise noted.