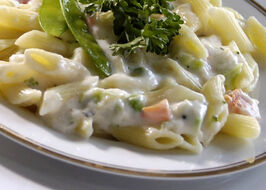 Prep Time: 20 mins
Cook time: 30 mins
Serves: 4
Description
Edit
I first ate a slight variation of this recipe at an American Diner called Sparky's, in Chennai. I guessed the ingredients by their flavours and made it at home. The result was just as good if not better. At the restaurant they had used chicken steak instead of minced meat, but I prefer my pasta this way. The creamy testure of the sauce goes best with Penne Pasta or Macaroni, although you can try making this with fusilli or fettucini.
Ingredients
Edit
Meat marinade
Edit
White sauce
Edit
Bourbon sauce
Edit
Directions
Edit
Meat marinade
Edit
Add the wine, chopped garlic and chillies to the minced meat. Mix well and marinate in the refrigerator for 20 minutes
Cook the pasta/macaroni with 1 tbs oil and a pinch of salt till al dente. Strain, cover and keep aside.
White sauce
Edit
Melt the butter in a pan over low flame, add the chopped garlic and fry till they turn light brown. Reduce flame.
Mix the corn flour in the milk such that there are no lumps.
Slowly add this mixture to the butter in the pan, stirring continuously.
Add water slowly till the sauce reaches a thick smooth consistency.
Add oregano, salt and freshly ground pepper.
Remove ⅖ of the sauce from the pan and keep aside.
Add the pasta to the remaining sauce and mix well. Cover and cook for 5 minutes over slow flame.
Bourbon sauce
Edit
Melt the butter in a pan and caramelise the sugar in it.
Add the onions to this and saute till it becomes brown.
Reduce flame and add the white sauce. Add salt and cook for 2 minutes.
Add the marinated meat to this and cover. Simmer for 10 minutes till the meat is cooked. Remove from flame.
In a baking dish arrange a layer of the pasta and spread half of the cheddar cheese.
Pour the meat and bourbon sauce over this. Finally top it up with the remaining pasta. Spread the remaining cheese.
Place in an oven preheated at 150 °C. for 5 minutes till the cheese turns brown. Alternately, you can microwave this at medium-high for 10 minutes.
Garnish with chopped cilantro leaves and serve with buttered, toasted baguettes.
Community content is available under
CC-BY-SA
unless otherwise noted.