Description
Edit
Pair salty-sweet tuyo with garlic fried rice! This bold seafood dish is made and packed with real honey and balsamic vinegar and delivers a crispy aroma that it delivers and enhances with the condiments and spicy flavor.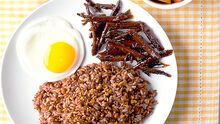 Ingredients
Edit
1 ½ cup cherry tomatoes, halved
1 ripe avocado, cubed
1 red onion, chopped
2 tablespoons fresh cilantro, chopped
2 tablespoons extra virgin olive oil
½ cup honey
1 ½ tablespoon balsamic vinegar
1 piece bird's eye chili, sliced
1 230-gram bottle tuyo, fillets in oil, drained
3 tablespoons olive oil
1 head garlic, chopped
400 grams red or white rice, cooked according to package directions and cooled
4 to 5 fried eggs, to serve
Directions
Edit
For the avocado-tomato salsa
Edit
Mix all ingredients together.
Set aside in the refrigerator for 25 to 30 minutes to allow flavors to develop.
For the seafood base
Edit
Combine honey, balsamic vinegar, and chili in a saucepan. Simmer until slightly thickened.
Add tuyo fillets and coat well with the glaze. Set aside.
For the fried rice
Edit
Heat oil in a wok or frying pan. Sauté garlic until fragrant and light-brown.
Add cooked red or white rice and season with salt. Toss to mix.
To serve
Edit
Serve tuyo fillets with garlic red rice, avocado-tomato salsa, and fried eggs on the side.
Community content is available under
CC-BY-SA
unless otherwise noted.