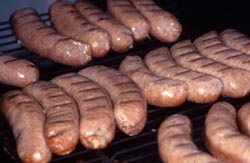 British slang for English sausages originally made of ground pork and bread crumbs.
A British term for English sausages that became popular during World War II when the sausage was made with pork meat. The typical Banger made today may contain a mixture of beef or pork meat with cereal or rusk added as a filler. The term "Banger" arose during the war era as the sausages were roasted and exploded due to the excess water contained in the sausages. Since the Banger is a mildly seasoned sausage, various counties in the country add their own seasonings such as fresh sage, pimiento, and thyme to name a few, to enhance the flavor of their sausages.
Community content is available under
CC-BY-SA
unless otherwise noted.