An intense combination of real beef, peanut butter, and vegetables is made bolder and packed with crushed red pepper flakes, sesame oil, and peanuts and cooked to red-hot perfection, as it adds some bold zing to the meat, herbs, and spices based in Thailand. Cashews occasionally replace the unsalted peanuts and work for this too. But absolutely unlike the original, stir-fried beef, this Thai dish has a moderate hint of black pepper and soy sauce.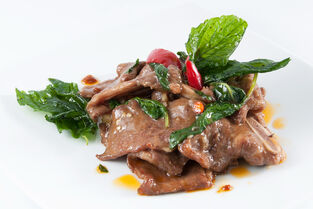 Combine peanut butter, soy sauce, sesame oil, cilantro, lemon juice, garlic powder, black pepper, and red pepper flakes in a small bowl; set aside.
Serve warm and plain, over rice, or with other main dishes. Sprinkle with the remaining cilantro, if desired.
Community content is available under
CC-BY-SA
unless otherwise noted.