Description
[
]
This sauce combines two great flavors for supreme taste and is perfect for dipping meat, poultry, or other meals. Make barbecue sauce bolder with the other condiments often including the ranch dressing, as it always keeps a tangy aroma with the barbecue sauce.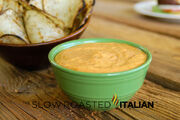 Ingredients
[
]
1 bottle barbecue sauce, store-bought only
1 envelope ranch dressing mix or (5-8 tablespoons ranch dressing)
¼ cup honey
½ tablespoon dry mustard or (6-9 teaspoons Dijon mustard)
Directions
[
]
Stir together all ingredients in a saucepan over moderate-high heat; bring to a boil. Reduce heat, and simmer, stirring occasionally, 20 minutes.
Pour or spoon contents into the fresh container. Use as a marinade or for dipping.
Nutritional Information
[
]
Servings: 1 ¼ cup or 3 tablespoons
Videos
[
]