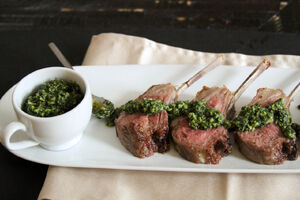 Contributed by
World Recipes Y-Group
Ingredients
Edit
For the meat base
Edit
Asian Barbecue Sauce
Edit
Mint vinaigrette
Edit
Soy-ginger vinaigrette
Edit
Crispy potato sticks
Edit
Directions
Edit
Asian Barbecue Sauce
Edit
Heat 2 cups of red wine, rice wine vinegar and brown sugar in a saucepan.
Simmer slowly until reduced to a syrupy consistency.
Combine the remaining 2 cups of red wine, sake, cinnamon sticks, star anise, chili flakes, bay leaf and ginger.
Bring to a boil then simmer until reduced to about ¼ of original volume.
Combine the contents of both pots and add soy sauce to taste.
The total volume should be about 2 cups.
Mint vinaigrette
Edit
Soy-ginger vinaigrette
Edit
Place the shallots, ginger, garlic, soy sauce, vinegar, and lime juice in the bowl of blender or food processor.
Process for a minute.
Strain mixture into a bowl.
Slowly whisk in oils.
Crispy potato sticks
Edit
Let drain on paper towels.
Make sure that all fat cover and bone fragments are removed from the lamb racks.
Allow to come to room temperature.
Heat a roasting pan or large sauce pan, very hot.
Baste the racks with the barbecue sauce and place the lamb racks, bone side down, into the hot pan and roast at 400°F for ten minutes.
Remove from the heat, brush with sauce and return to the heat until medium rare or to desired doneness.
The total cooking time should be 10 to 20 minutes depending on how heavily seared and how done you want them.
When they are fully cooked, brush them one more time with the barbecue sauce on both sides.
Allow the lamb to rest at room temperature after roasting for about 15 minutes.
Presentation: toss the mixed baby greens in a small amount of the soy-ginger vinaigrette with the french fries.
Spoon the mint vinaigrette around the outside of the plate well.
Place the greens/French fries in the center of the plate.
Cut the lamb into chops and brush lightly with the barbecue sauce.
Place the chops in a triangle around the greens. Serve plain or with rice.
Community content is available under
CC-BY-SA
unless otherwise noted.