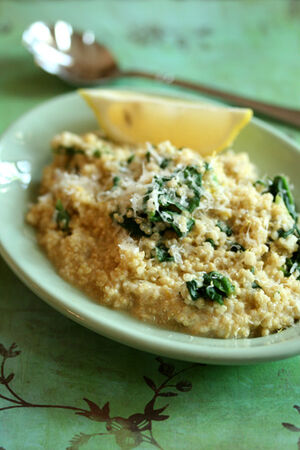 Prep Time: 7 Min
Cook time: 40 Min
Serves: 4 Hungry People
Description
Edit
This is the basic Dalto Family recipe that travelled over from Lucca a century ago. The port adds a certain tangy sweetness that other risottos lack. You can easily elaborate on it to match your tastes. Add chicken, sun dried tomatoes, artichoke hearts, pine nuts, whatever your heart desires.
Ingredients
Edit
2 Cups Risotto Grains
2 Tablespoons Olive Oil
2 Tablespoons Butter
1 Chopped Sweet Onion
1/2 Cup Port
6 Cups Chicken Broth
3/4 Cup Parmigan Cheese
Directions
Edit
Heat oil to a medium temp, add butter and let just get to the point where it's just melted, then add the onion. Let cook until onion is soft and starting to get a little brown on the edges. Turn heat to high and add port wine. Cook until alcohol burns off (about 1.5-2 min). Add Risotto and let the mixture coat the grains (about two minutes). Turn heat to low-mid and add 1/2 cup of the broth at a time, stirring often. When liquid is somewhat absorbed, add another 1/2 cup until grains get tender. In last 2 minutes, stir in the cheese. Serve warm.
Community content is available under
CC-BY-SA
unless otherwise noted.