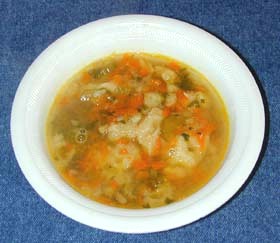 Description
This basic, meaty soup is made and packed with real vegetables and infused with herbs, as it keeps a red-hot aroma with the beef.
Ingredients
Directions
Boil soup bones in 2 qts. water (about 30 minutes in a pressure cooker).
Cut up vegetables, yam and chayote and add with seasonings to soup. Dumplings may be added if desired.
Once it starts to boil, simmer uncovered until both yam is cooked and soup is of medium consistency. Pour the cooked, meat-based soup into a fresh container and reserve this in the refrigerator.
Videos
Community content is available under
CC-BY-SA
unless otherwise noted.