Description
This dish goes nicely with a green leaf lettuce and cucumber salad and a dinner roll. Plantains or corn can be used in place of the potatoes.
Beef or Turkey Stew from the NDEP Recipe and Meal Planner Guide, public domain government resource—original source of recipe
Cook Time: About 2 hours total
Serves: 5
Ingredients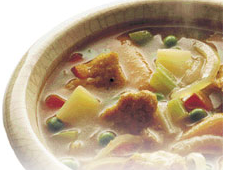 Directions
Preheat oven to 375°F.
Mix the whole wheat flour with salt, pepper, and cumin, and roll the beef or turkey cubes in the mixture. Shake off excess flour.
In a large skillet, heat the olive oil over medium-high heat. Add the beef or turkey cubes and sauté until nicely brown, about 7–10 minutes.
Place the beef or turkey in an ovenproof casserole.
Add minced garlic, onions, celery, and peppers to the skillet and cook until vegetables are tender, about 5 minutes.
Stir in the tomato and broth. Bring to a boil and pour over the turkey or beef pieces.
Cover the casserole tightly and bake for 1 hour at 375°F.
Remove from the oven and stir in the potatoes, carrots, and peas. Bake for another 20–25 minutes, or until tender.