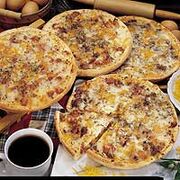 Ingredients
1 pound ground Beef
1 package Betty Crocker hash brown potatoes
2 cups hot water
1/2 cup ketchup
2 tablespoons yellow mustard
1 tablespoon instant chopped Onion
12 hamburger buns, split
Directions
Cook Beef in 10-inch skillet over medium heat, stirring occasionally, until brown; drain.
Slightly crush potatoes. Stir potatoes and remaining ingredients except Cheese and buns into Beef in skillet.
Heat to boiling, stirring occasionally; reduce heat.
Simmer uncovered about 15 minutes or until most of the liquid is absorbed and potatoes are tender.
Stir in Cheese until melted. Fill buns with Beef mixture.
High Altitude (3500-6500 ft): Increase hot water to 2 1/2 cups.
Makes 12 sandwiches
Other Links
See also