Description
[
]
A red-hot, bold combination of real meat, consommé, and real fruit juice is made with beer and herbs, grilled to a crisp aroma, and served with beer on the side, as it provides the meat with alcohol content and usually adds some brown zing to the steak when cooked.
Ingredients
[
]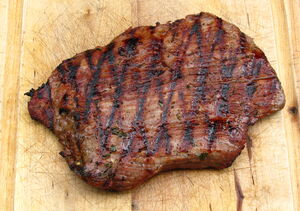 Directions
[
]
Combine first 6 ingredients and pour over steaks in a dish.
Pour beer over all and let marinade 24 hours.
Barbecue over medium heat until done to your liking.
To serve, slice thinly across the grain.