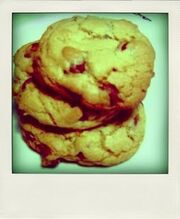 Description
Edit
This recipe produces perfectly plump, golden brown cookies that are crispy outside and chewy inside...pure heaven!
Ingredients
Edit
Directions
Edit
Preheat oven to 350 °F. Grease a baking sheet. (I use the butter wrapper to do this—quick and easy!).
Combine the flour, baking soda, and salt in a medium bowl and set aside.
Using a standing mixer fitted with a paddle attachment, cream the butter and sugars on low speed until smooth and fluffy, about 3 minutes.
Stop to scrape down the sides of the bowl and the paddle.
Add the vanilla, vanilla bean seeds, and egg.
Beat on low speed just until fully incorporated.
Don't get carried away- this should take a minute tops.
Stop to scrape down the sides of the bowl and the paddle.
On low speed, add the flour mixture. Beat until just incorporated. Scrape down the sides of the bowl.
Add the chocolate chips and mix until they are just incorporated.
Spoon heaping tablespoons of dough 2 inches apart onto the prepared baking sheets. (makes about 18 cookies, depending on size).
Bake for 10–12 minutes or until golden brown around the edges. Do not overbake! slightly underdone cookies are scrumptious. Dry, overdone cookies are not.
Remove the sheet from the oven and let rest 3 minutes. When cookies are set, remove them to a cooling rack.
Wait at least 5 minutes and devour! mmmm.
Community content is available under
CC-BY-SA
unless otherwise noted.