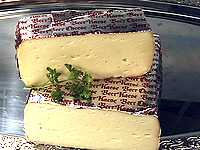 Name Variations
Edit
bierkaese
beer kaese
beer cheese
About Bierkäse
Edit
Wikipedia Article About Bierkäse on Wikipedia
Beer cheese is a type of cheese that originated in Germany, but is now known worldwide. Produced in America, mostly in Wisconsin, it is a pungent and salted cheese. Beer cheese ripens for seven months in highly humid conditions. It is related to Limburger cheese. Connoisseurs of this delicacy often take it with beer (sometimes dipping the cheese directly in their drinks), hence the name. Most people don't realize that beer and cheese have more in common than wine and cheese. Beer cheese is also good served on small slices of rye or pumpernickle bread. It is a common item on pub and restaurant menus in the Czech Republic, the country with the highest per-capita beer consumption in the world. Beer Cheese is also known as Bierkaese or Weisslacker. In addition, beer cheese is a common ingredient in various breads, soups, and dips.
A simple beer cheese recipe to try at home...
Ingredients
Edit
Directions
Edit
Cube the cheese and process it in an electric mixer until it is smooth.
Add the garlic, worcestershire sauce, mustard, and tabasco.
Blend well.
Add the beer while continuing to beat the cheese a little at a time until the mixture is a good, firm spreading consistency (too much beer will make the cheese too fluffy )
Stir in the salt, and refrigerate.
This recipe serves about 15 to 20 people.
Community content is available under
CC-BY-SA
unless otherwise noted.