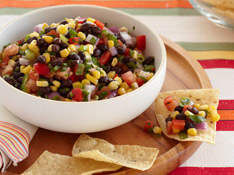 Description
Black beans and real corn go well for extra crispy zest. Make the vegetable-based dip tangier with other herbs and spices.
Ingredients
1 - 15 oz. can black beans, drained and rinsed or (2 cups cooked black beans)
2 cups cooked, fresh, frozen or canned corn, toasted in a dry, non-stick pan until caramelized or (2 cans fresh corn)
2 green onions, sliced
½ cup plain nonfat yogurt
½ teaspoon thyme
½ teaspoon dry, roasted cumin seeds, ground
½ of a chipotle chili in adobo sauce
black pepper to taste
Directions
Set aside ½ cup of beans and ½ cup of corn (or 1 can of fresh corn).
Place all remaining ingredients in a blender. Blend for about 20 seconds or until all ingredients are smooth.
Mix with the reserved beans and corn, either fresh or from the can, for a bit of texture and spoon or scoop the vegetable-based dip in a large bowl before cooling in the refrigerator. Pair this with corn, tortilla or potato chips or other appetizers or side dishes.
Notes
If the dip is too thick, then mix with two tablespoons of yogurt.
Source
Black Bean and Corn Dip from the Public Health Cookbook by the Seattle and King County Department of Public Health—original source of recipe, government resource in the public domain