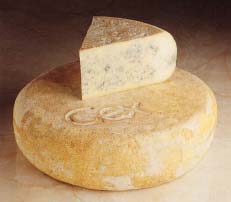 Name Variations
Edit
Bleu du Haut-Jura
Bleu de Septmoncel
About Bleu de Gex
Edit
Bleu de Gex is a creamy, semi-soft blue cheese made from unpasteurized milk in the Jura region of France. During production, Penicillium glaucum mold is introduced and the unwashed curds are loosely packed. It is then aged for at least three weeks. To meet Appellation d'Origine Contrôlée guidelines, it must contain only the milk of Montbéliard cows. It is flavorful for a French blue cheese. Each wheel is stamped with the word "Gex".
Community content is available under
CC-BY-SA
unless otherwise noted.