Bolognese spaghetti Javier Salazar
Edit
Bolognese spaghetti
ingredients
1 package of spaghetti.
2 peppers.
2 medium tomatoes cooked.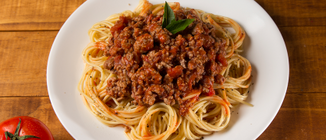 1 garlic.
1 carrot.
½ onion.
½ kg of ground beef.
1 pinch of basil.
1/2 cup Parmesan cheese.
Oil, necessary.
salt to taste.
Preparation method
1. In a liter of water cook the spaghetti with two peppers, a little oil and salt. Once cooked, drain it.
2. Blend the cooked skinless tomatoes with garlic and a little water.
3. carrot and onion Chop finely, fry and add a little salt. When the vegetables are ready add the meat, ground tomatoes and basil. Mix well and allow normal heat until the water is consumed tomato.
4. Since the meat is cooked, the pasta is served and in the middle a little of the mixture and sprinkle some cheese.
Community content is available under
CC-BY-SA
unless otherwise noted.