Line 1:
Line 1:
 
+

{{Wikifiedrecipe}}

 

==Description==

 

==Description==

 
 
Line 8:
Line 9:
 
 
 

* 8 bananas or 1/4 pound of gourd

 

* 8 bananas or 1/4 pound of gourd

−

* 3 tablespoons rice flour

+

* 3 tablespoons rice flour

−

* 1 tablespoon sticky rice flour

+

* 1 tablespoon sticky rice flour

−

* water

+

* water

 
 
 

===Directions===

 

===Directions===

 
 
−

Peel bananas or slice gourd in finger-length size. In a bowl, combine rice flour and sticky rice flour with water until the mixture yields a thick paste. Dip in and cover the banana or gourd in the paste and deep-fry. Makes 4 servings.

+

Peel bananas or slice gourd in finger-length size. In a bowl, combine rice flour and sticky rice flour with water until the mixture yields a thick paste. Dip in and cover the banana or gourd in the paste and deep-fry. Makes 4 servings.

 
 
 
 
Line 24:
Line 25:
 

[[Category:Burmese Recipes]]

 

[[Category:Burmese Recipes]]

 

[[category:Banana Recipes]]

 

[[category:Banana Recipes]]

 
+

[[category:glutinous rice Recipes]]

 
+

[[category:rice flour Recipes]]

 
+

[[category:banana Recipes]]

 
+

[[category:flour Recipes]]

 
+

[[category:water Recipes]]
---
Revision as of 15:08, 15 May 2006
Description
Boothee-kyaw (Fried Gourd) is a heavy snack that's best eaten with hot and sour sauce.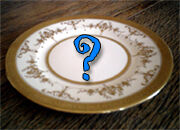 Ingredients
Directions
Peel bananas or slice gourd in finger-length size. In a bowl, combine rice flour and sticky rice flour with water until the mixture yields a thick paste. Dip in and cover the banana or gourd in the paste and deep-fry. Makes 4 servings.
Other Links
See also
Community content is available under
CC-BY-SA
unless otherwise noted.