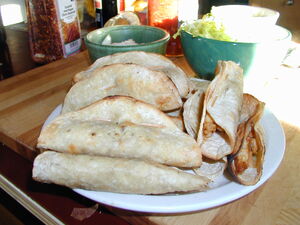 Prep Time:1 hour
Cook time:10 minutes
Serves:4
Description
Edit
Tacos like my mom made
Ingredients
Edit
1 lb filling - can be chicken, string beef, or ground beef
cooking oil
lettuce (romaine thin sliced)
flat toothpicks or tongs
Directions
Edit
Cook meat. Can be fried, boiled, roasted or grilled.
Take the meat and shred it lengthwise. Use your fingers to pull it apart. Disregard if using ground meat.
Put a cast iron or heavy skillet on the stove for electric stoves and set to about 4. On gas you just use direct flame.
Throw a tortilla on and heat until it starts to raise. Flip. When pliable take off heat.
Throw the next one on.
Take the heated and bendable tortilla and put a small amount of filling in it.
Fold over and thread a toothpick through the top to hold it together [1]
In a frying pan heat oil to just below smoking. You need about a ¼ inch of oil.
Lay the taco on its side (I like to cook 4 at a time).
Flip when crunchy but not browned.
Remove and drain on paper. Add next batch to pan.
Remove toothpick from taco as soon as you can and add some cheese while the taco is still hot enough to melt it.
Add lettuce, tomatoes, salsa (green for fowl, red for meat or veggies).
Serve with rice and beans
↑

If you deep fry tacos you keep the oil a little cooler and dip the taco in the oil with tongs and thus do not need toothpicks. When putting the taco to drain you need to put it on the drain area a little hard to cause the shell to open, otherwise the shell will break when you try to add cheese, lettuce.
Community content is available under
CC-BY-SA
unless otherwise noted.