Description[]
While Boston Cream pie is a classic, it can be time consuming to make. This recipe incorporates the Boston Cream pie flavors we all know and love — the contrast of creamy vanilla with rich, dark chocolate — into a cupcake form.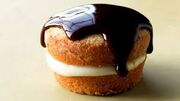 Cook Time: Approximately 1 hour
Serves: 24
Ingredients[]
1 box cake mix, including ingredients required to prepare cake mix (see directions on package)
1 x 4-ounce box vanilla-flavored instant pudding mix
1 ¼ cup cold, whole milk
1 tablespoon vanilla extract
1 x cup heavy cream
1 x 12-ounce package semi-sweet chocolate chips
¼ cup powdered sugar, sifted
Things You'll Need[]
cupcake liners
2 cupcake pans
large bowl
hand mixer
pastry bag with medium-sized tip
small heavy saucepan
Directions[]
Bake cupcakes according to directions on the cake-mix box.
In a large bowl, combine milk, pudding mix and vanilla extract.
Blend for two minutes using a hand blender. Refrigerate the mixture for 15 minutes.
Fill the pastry bag with pudding mixture. To inject vanilla pudding mixture into cupcakes, insert a pastry bag tip into a cupcake, squeezing a tablespoon of filling into each cupcake.
To make the ganache topping, heat cream in a saucepan until bubbles form around the edges. This should take less than five minutes.
Once bubbles form, quickly remove the saucepan from heat and add the chocolate chips.
Whisk the chocolate cream mixture until it is smooth.
Glaze the cupcakes by spooning or drizzling the ganache over them.
Alternately, you can also dunk cupcake tops directly into the ganache. Serve cold and plain or with other desserts.
Tips[]
If you are running low on cream, a mixture of cream and half-and-half will also work.
If you do not have a pastry bag, you can use a mustard bottle to fill the cupcakes instead. Just empty the mustard bottle, clean it out and use it in place of the pastry bag.
Make sure you buy instant pudding mix, or else you may end up with a drippy mess for a filling.
External links[]