Description
Edit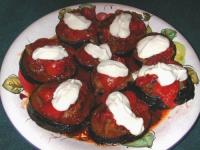 Afghan eggplant with yogurt sauce. This is my take on the Afghan dish Bouranee Baunjan, and although it is not exactly authentic, it is quite delicious. :) It's a bit of work to put it together, but is not difficult and is worth it.
Ingredients
Edit
Directions
Edit
Clean the peel of the eggplant, then cut the stem off.
Cut into ½ inch thick slices (leaving the peel on).
Spread slices on a flat surface or tray and sprinkle generously with salt; let sit for 30 minutes, then dry well with paper towels.
In a skillet or pan melt the olive oil and butter together over medium low heat; sauté the sliced onion (and green pepper, if using) until nicely browned and slightly caramelized, then stir in the red pepper flakes.
Pour oil into a separate deep frying pan (one that has a lid) to cover the bottom of pan; over medium high sauté the eggplant slices on both sides until lightly browned.
As the eggplant slices are done, gently squeeze them with tongs to remove as much oil out of them as possible; discard extra oil.
Remove extra oil from the deep frying pan, then place one layer of eggplant slices on the bottom of the pan.
Place a bit of cooked onion on top of each slice; repeat with another layer of eggplant and cooked onion, until you're out of slices and onion.
Pour the chopped tomatoes with their juice over the slices and onion, careful to not dislodge the onion too much.
Cover and simmer over medium heat for 15 minutes, then remove cover and simmer another 5 to reduce the sauce a bit.
Combine the strained/drained yogurt, crushed garlic to taste, and salt to taste to make the chakah sauce.
When eggplant is done, remove from heat then carefully transfer the slices to serving dish (careful not to dislodge the toppings), then top each with a dollop of the chakah sauce.
Community content is available under
CC-BY-SA
unless otherwise noted.