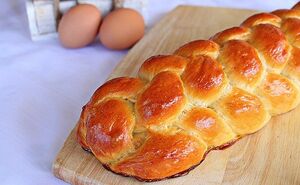 Ingredients
Edit
Directions
Edit
Let stand in a warm place for about ten minutes, or until foamy.
Mix the four tablespoons of oil, the remaining water, and the two eggs in a small bowl and add them to the flour mixture.
Mix well.
Then add the yeast sponge and mix well.
Knead until satiny smooth.
Use the remaining oil to rub the bowl and put the dough in it.
Turn it over to oil the top and cover it with a damp cloth.
Put the bowl in a warm place for one hour, or until dough is doubled in bulk.
Preheat the oven to 350°F.
Punch down the dough and re-form into a ball.
Divide it into two equal pieces and knead each lightly.
Divide each half into three pieces and form each into a rope about three-fourths of an inch in diameter.
Pinch one end of three ropes, braid, then pinch the other end.
Tuck both ends under the loaf.
Repeat with the other three ropes.
Put the braided loaves on a greased cookie sheet and let them rise ten minutes.
Paint each loaf with beaten egg and sprinkle with seeds.
Bake for about 55 minutes, or until golden brown and hollow sounding when tapped on the bottom with a spoon.
Community content is available under
CC-BY-SA
unless otherwise noted.