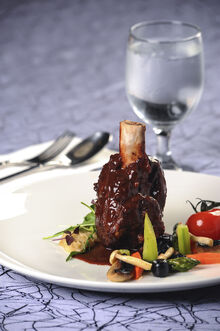 Shank is the potion of meat around the tibia of an animal and lamb shank, providing a high-calorie intake and rich in proteins and fat, is extremely flavorful if prepared in a proper way. Below is a recipe that you could cook from home and will certainly tantalize your taste buds if you follow the instructions correctly.
Ingredients
·         Lamb shank                              350gm
·         Tomato paste                            10gm
·         Onion                                       30gm
·         Garlic                                        20gm
·         Celery                                       20gm
·         Bay leaf                                    1gm
·         Fresh Thyme                             2gm
·         Fresh rosemary                        2gm
·         Red wine                                  100ml
·         Black pepper Whole                  2gm
·         Potato                                      50gm
·         Cooking Cream                         30ml
·         Olive oil                                    30ml
·         Black olive                                10gm
·         Brown Stock                             30ml
·         Tomato Cherry                          5gm
·         Corn oil                                    30ml
·         Carrot                                       5gm
·         Yellow Zuccini                           5gm
·         Asparagus                                5gm
Method of Preparation
1.     Marinate the shank with salt and pepper. Sear the meat for a couple of minutes to seal in all the juices.
2.     Heat a pan and add in all the main ingredients and Sauté until it turns dark brown,
3.     Arrange the shank and glaze it with red wine.
4.     Add in the brown stock and let it simmer for 2-3 hours
5.     Boil the potatoes until it turns really soft and mushy. Make a comfit of garlic and Cherry tomatoes.
6.     Mix the potatoes with garlic cooking cream, butter and seasoning to taste.
7.     Trim the vegetables nicely and sauté them with butter and seasoning to taste plate the cooked ingredients pleasantly and serve hot.
Community content is available under
CC-BY-SA
unless otherwise noted.