Description
Edit
Branston Pickle is a UK favourite that is served in pubs as part of a Ploughman's Lunch. Although this tangy vegetable pickle has lots of ingredients, it is worth the effort. Tastes great with cheeses.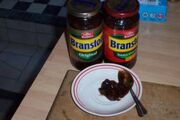 Ingredients
Edit
Directions
Edit
Cube the carrots and swede, and finely chop the garlic, dates, cauliflower, onions, apples, zucchini and gherkins.
Combine all the ingredients except the colouring in a large saucepan and bring to the boil; reduce the heat to a simmer.
Simmer until the swede is cooked through but still firm (about 11⁄2 to 2 hours).
Then add the liquid colouring until the colour is dark brown.
Spoon into warm sterilized jars and seal.
Leave for at least 3 weeks to let the flavours mature.
Community content is available under
CC-BY-SA
unless otherwise noted.